Lebois & Co is currently inviting investors to pre-register (for early access) to a capital raising round through the global equity crowdfunding platform Eureeca

Lebois & Co is a contemporary watch brand with a remarkable history carefully built since 1934.
Lebois & Co's mission is to create aesthetic and affordable luxury Swiss timepieces.
Join us on our journey...
[i] You can own shares in Lebois & Co from as little as $500

[ii] Exclusive benefits like preferential conditions and discounts will be available to early adopters who pre-register their interest in investing
CAPITAL AT RISK - INVESTMENTS OF THIS NATURE CARRY RISKS AS WELL AS POTENTIAL REWARDS
The revived Lebois & Co wants to become the most personal global luxury watch brand
The revived Lebois & Co wants to become the most personal global luxury watch brand by inviting watch enthusiasts to become shareholders of the company and to involve them in the development of its products. Shareholders will be able to acquire watches at preferential conditions and benefit from the company's growth and co-creators can buy the watches they helped to design.
Lebois & Co's vision answers today's luxury consumers who seek more experience and want to be recognized as supporters and ambassadors of a brand. Lebois & Co respects and treasures its heritage. The company's watch designs are authentic and share the same DNA. They have character, are unique in looks and recognizable in style. The brand dares to go where no other brand has gone. After being revived in 2014, the company has developed two new timepieces. The two upcoming models will be reissues, based on popular vintage timepieces that the company has in its possession.
Besides owning a piece of a genuine watch company, along with all the benefits that come with it, Lebois has all the important ingredients on board that are needed for a successful market entry:
✓ Genuine and remarkable history suitable for great storytelling
✓ Inspiring and soughtafter designs which can function as inspiration for new watch models
✓ Part of Dodane watchmaking dynasty, with potential future expansion into other historic brands
✓ Strong focus on personal approach and customer involvement
✓ Click-and-mortar/phygital strategy combining online and offline sales channels
Start Lebois & CoLAB for Heritage Chronograph
Introduce new variation of the Venturist watch model
Start CoLAB for Airain Type 20 (sister brand of Lebois & Co)
Finishing Heritage Chronograph watch model
Introduce new version of the Avantgarde Date
✓ Three successful Kickstarter campaigns (EUR 190,000+ raised).
✓ EUR 100,000 raised among fans of the brand and private investors.
✓ Two watch models released to date.
✓ Latest watch model, Venturist, is the first watch in the world to be certified according to the TIMELAB Observatoire Chronométrique+ Certified Chronometer protocol.
✓ Signed distribution agreement for the territory of all the Caribbean Islands (The Bahamas, The Greater Antilles and The Lesser Antilles) and the Florida (USA).
✓ Distribution agreement for California is in progress.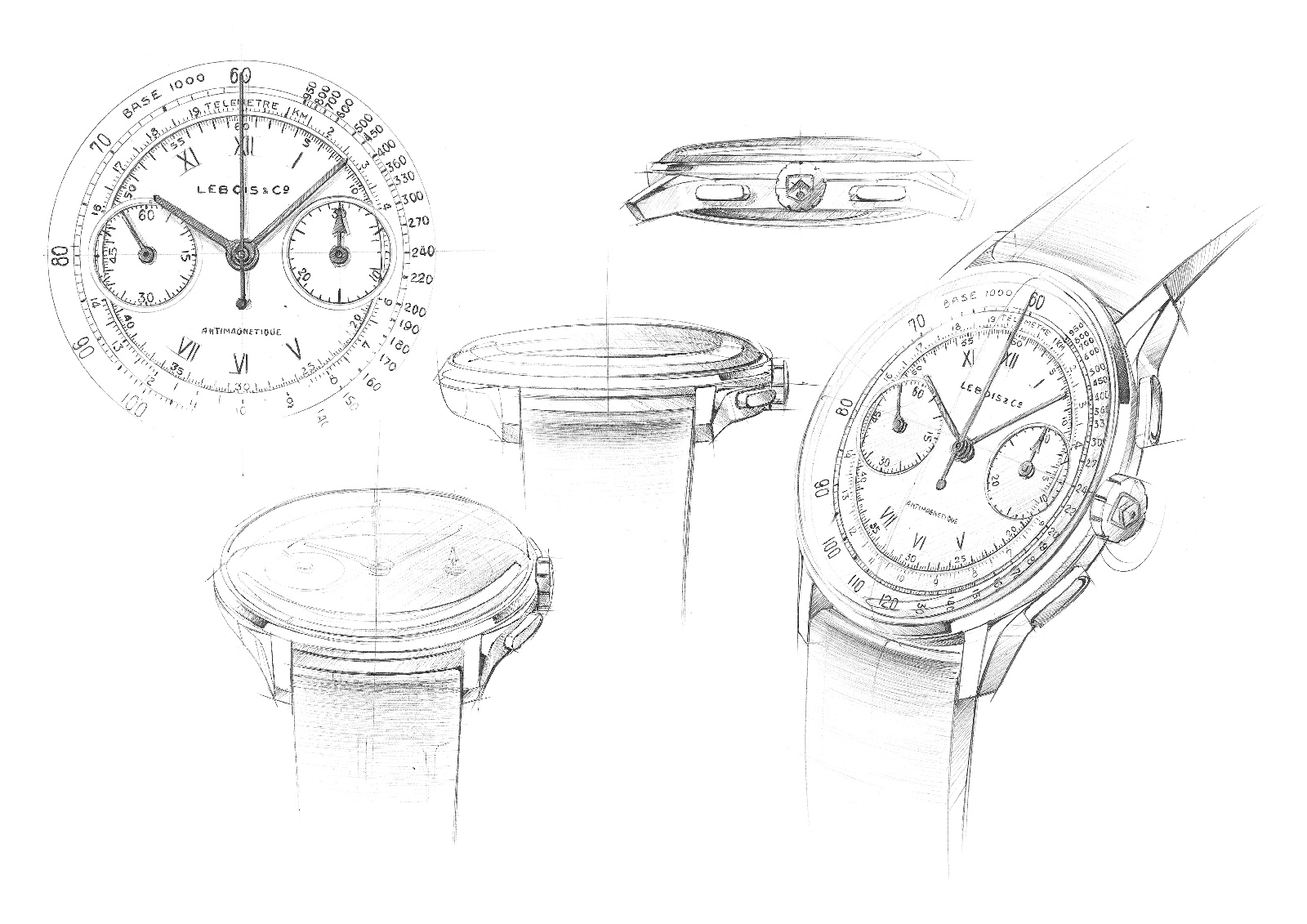 Lebois & Co's next new watch model will be the long awaited and much requested re-issue of the brand's vintage chronographs. This will be the first watch that will be brought to life through Lebois & CoLAB, in direct collaboration with watch enthusiasts from around the world.

The vintage chronograph will have a state of the art reliable movement while still being able to feature the classic two register layout that Lebois & Co's vintage chrono's are famous for.
In the medium term, Lebois & Co can serve as a step up to revive more old watch brands and thus form a group of watch brands. The first brand that is being added is Airain. The original Montres Airain was, like Lebois & Co, founded by famous French watchmaking dynasty Dodane. In the 1950s and 60s Airain was one of the selected suppliers of the Type 20 model for the French Army. Today, the Airain Type 20 model is one of the most sought-after military timepieces of all time.
+ Marketing: execute marketing campaign (online and offline)

+ IT: further develop website to support click-and-mortar sales strategy
+ Personnel: grow the sales and account team
+ Distribution: set-up selective distribution through one hundred retailers worldwide.
+ Content: strong storytelling content around our products and heritage in photography and video; investing time in further research of our heritage and history
Tom is an IT professional and entrepreneur. He has a passion for watchmaking, customer contact and has a keen eye for detail and honors the specific principles of luxury management which have been established and enacted by the world's most profitable luxury companies.
Roel is an entrepreneur, and pioneer in 3D technology. He is passionate about the ongoing digital transformation, disruptive innovation and the current energy transition. He is a strategic thinker but also an enthusiastic pragmatist.
Brian, a US based Lebois & Co shareholder/advisor, has a track record in finance and currently holds a position as a Director of Finance and Controller in healthcare. He is a watch collector and has a strong passion for watchmaking.
Matthieu is a senior freelance watch designer who works for many famous design agencies and Swiss brands including Piaget. He is constantly looking for improvement and likes to think out of the box to create attractive, innovative and well thought out products.

Pre-Register to invest in Lebois & Co
Fill in your details to pre-register for early access to our upcoming equity crowdfunding round. Please note: This is not a financial commitment at this stage.
[i] You can own shares in Lebois & Co from as little as $500

[ii] Exclusive benefits will be available to early adopters

who pre-register their interest in investing
Who are Eureeca & why are we good for Investors
Eureeca is the first global equity crowdfunding platform. It enables members of its investor network, who range from casual and angel investors to institutional firms, to buy shares in growth-oriented businesses, while providing operational businesses with crucial access to capital.
Early Adopter Benefits

Maximize your investment from early-adoption discounts
Money Returned

If the SME doesn't reach min target, your investment will be returned.
Regulated Platform

Feel secure using a multi-regulated platform.
Money in Escrow

Client money is held in segregated escrow accounts.
No Shares. No Money

We release the money after shares have been issued.
Compliant Transactions

Eureeca makes sure all transactions are compliant.

Eureeca Limited is authorised and regulated by the Financial Conduct Authority in the UK (No. 624555). Eureeca launched in 2013 and has since grown into a cross-continent platform globally having received regulatory approval from the UK's Financial Conduct Authority (with a Branch Office in the Netherlands authorised by the Netherlands Authority for Financial Markets) and the Malaysian Securities Commission.
Eureeca offers high-yield potential investment opportunities from the Middle East, Europe, and Southeast Asia to its investor network who range from casual and angel investors to institutional firms. Businesses raising funds can leverage this network for capital, strategic connections, and expansion into new markets.
Copyright Eureeca 2020|Privacy Policy |Learn More
Investing in start-ups and early stage businesses involves risks, including loss of capital and illiquidity. Please read our Risk Warning before investing.