Deko Eko is currently gauging the interest of potential investors in participating in a capital raising round through the global equity crowdfunding platform Eureeca.
NOT A FINANCIAL COMMITMENT
We Transform Waste into Value
Scroll down to learn more...

Deko Eko is an innovative upcycling platform which is completely changing the way of thinking about waste. We cooperate with the best designers from all over the world to create well designed consumer products out of carefully selected waste materials from global companies.
Deko Eko is online upcycling marketplace connecting businesses, designers, small manufacturers and consumers aiming to create more circular market by bringing back waste materials to the loop. We create & facilitate a professional 'waste-to-product' market which focus on finding the most valuable solutions for hard-to-recycle waste materials by boosting creativity & collaboration among designers, consumers and global companies.
At our B2B2C marketplace the newest upcycling ideas are matched via our 'smart-matching solutions' with global corporations that are generating waste and seeking for new, more profitable solutions. Our international chain of upcycling manufacturers give the highest value jump from zero to a ready-to-sell products which are 100% made from carefully chosen waste materials from global companies. Among them are all sorts of every-day-use products like bags, jewellery, fashion & interior products, corporate gifts, brand loyalty give aways made from outdated marketing materials, old collection of products, packagings of products, textiles etc.
We are driven to become the 1st global circular marketplace in Europe by developing 2 main lines of growth:
a. smart matching tools linking up directly corporate clients (e.g. McDonald's, IKEA, Unilever, Heineken) with designers' upcycling products
b. the e-commerce platform for upcycling designers to sell their products directly to aware consumers
Deko Eko is online upcycling marketplace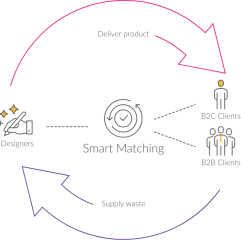 1. All-in-one solution: waste analysis, smart matching, prototyping, manufacturing and ready products sold via our platform.
2. Cutting-edge technology: machine learning for smart matching finds the best fit between designers and clients based on materials, location, impact, footprint.
3. 3-D model prototyping tool to offer the best self-designing experience online.
4. The biggest ecosystem of more than 290 upcyclers with almost 3000 products constantly growing (thousands of upcycling companies around Europe).
5. Vibrant corporate community with +200 project delivered to businesses, event agencies, cities over past 3 years with more than 15 global companies like IKEA, Orange, T-mobile, SUEZ, Renewi, NN, Heineken, Unilever, Canon Europe, McDonald's as clients.
6. Currently launching business operations at Benelux countries with Netherlands as a starting point for international expansion. Having 2 offices in the Netherlands and Poland but can deliver products globally.
If you're looking for a true impact investment company that provides a systematic solution for limiting waste and offering profitable and scalable business
Deko Eko is the perfect match for you!
We secured 50% of our current seed round and are planning A-round in 1 - 1.5 yrs time which will be a good exit strategy for current investors

Circularity is the new global trend that we foster and benefit

Companies tend to order more sustainable products and corporates gifts market is worth more than 1 billion EUR a year

Our target B2C group (LOHAS) is constantly growing constituting 20% of adult population in Europe (>50 million!)

We run on 30-50% profit margin, our revenues grew 5x comparing quarter I to quarter II in 2019

Our dynamic international team is Polish, Dutch and Italian with total of 50+ years of experience in Technology, Marketing, E-commerce, Design

We took part in the best acceleration programme - Startupbootcamp in Amsterdam 2018 where with a group of international mentors and experts we were working on scaling up our business concept
Just signed TS with Simpact VC for EUR 250k at 2,5 mln EUR valuation

Part of Startupbootcamp accelerator program 2018 in Amsterdam

Completed +200 upcycling orders over last 3 years with global companies like McDonald's, IKEA, Unilever, NN, BNP Paribas, Heineken etc. as our clients

Strategic partnerships with the biggest recycling companies - SUEZ and Renewi who are helping us in lead generation

McDonald's and IKEA just signed up for a longterm cooperation introducing theirs upcycling products at our marketplace and becoming an Ambassador of platform via theirs communication channels

We have generated EUR 200k sales up to now mostly from multinational clients with plan to grow 10x over next 2 years

Deko Eko and CEO, was featured in Forbes as one of 6 best women-led startups around the globe, was finalists of TheNextWomen, European Women Challenge, Chivas Venture competitions
Current seed round will help Deko Eko to roll-out international expansion with a starting point at Benelux (Netherlands mostly). Thanks to the investment we can grow on a fast pace:
1. A dynamic sales growth (from EUR 75k in 2018 to EUR 460k as of 2020 and over EUR 1 million in 2021),
2. Number of upcycling companies registering theirs accounts (today we have over 50 and plan to have 250 users on by the end of 2020) multinationals clients cooperating with our ecosystem via our marketplace.
3. We plan to build strong operations in Benelux countries to scale up our solutions to other European countries (UK, France, Scandinavian, Germany, Italy) and US markets
Founder & CEO of the company, main expertise in marketing, brand strategy, circular economy
CTO, co-founder, responsible for overseeing the technology system and security, main expertise in IT, security, RODO, managing teams
Chief architect and co-founder responsible for technology development, was building e-commerces & marketplaces for last 20 yrs
Chief architect and co-founder
CFO, co-founder responsible for investment issues and financial managements, main expertise in startup founding, business development
Business Development Manager, main expertise in lean management, sales and design
Business Development Manager
Marketing Manager, 12 years of experience in digital marketing
Agata Miryn - Sienkiewicz
e-commerce specialist, scouting for designers
New Business Manager, main expertise in sales, 10 yrs of experience in B2B sales
Who are Eureeca & why are we good for Investors
Early Adopter Benefits
Maximize your investment from early-adoption discounts.
Eureeca is the first global equity crowdfunding platform. It enables members of its investor network, who range from casual and angel investors to institutional firms, to buy shares in growth-oriented businesses, while providing operational businesses with crucial access to capital.
Money Returned
If the SME doesn't reach min target, your investment will be returned.
Regulated Platform
Feel secure using a multi-regulated platform.
Compliant Transactions
Eureeca makes sure all transactions are compliant.
Money in Escrow
Client money is held in segregated escrow accounts.
No Shares. No Money
We release the money after shares have been issued.
Eureeca Limited is authorised and regulated by the Financial Conduct Authority in the UK (No. 624555). Eureeca launched in 2013 and has since grown into a cross-continent platform globally having received regulatory approval from the UK's Financial Conduct Authority (with a Branch Office in the Netherlands authorised by the Netherlands Authority for Financial Markets) and the Malaysian Securities Commission.
Eureeca offers high-yield potential investment opportunities from the Middle East, Europe, and Southeast Asia to its investor network who range from casual and angel investors to institutional firms. Businesses raising funds can leverage this network for capital, strategic connections, and expansion into new markets.
Copyright Eureeca 2020|Privacy Policy |Learn More
Investing in start-ups and early stage businesses involves risks, including illiquidity, lack of dividends, loss of investment and dilution, and it should be done only as part of a diversified portfolio. Eureeca is targeted exclusively at investors who are sufficiently sophisticated to understand these risks and make their own investment decisions. You will only be able to invest via Eureeca once you are registered as sufficiently sophisticated. If you have any questions please get in touch with us at contactus@eureeca.com